Dewatering Screen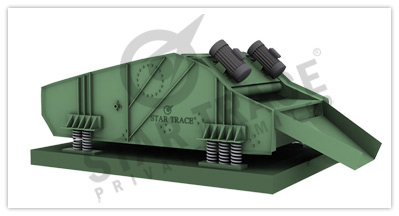 We offer a high quality Dewatering Feeder which is used in various applications.
Features of Dewatering Feeders:
900 x 1400mm dewatering feeder driven by two overhead mounted vibratory motors and single polyurethane drainage panels.
Head feed to mineral processing equipments often contains excessive moisture adversely affecting the performance of such equipment.
Star Trace dewatering feeders are designed to fulfill two basic requirements, remove the excess moisture and regulate the feed rate of the processing equipment.
Polyurethane or stainless steel wedge wire screen panels on the feeder pan allow the water to pass through, drying the solids in the feed.
The vibratory motors can either be mounted below and to the rear of the pan or overhead. Overhead mounting allows maximum area of drainage panel.
The standard range of screen from 300mm x 900mm to 3000mm x 9000mm in single deck configuration.
chennai
design
exporters
globally
india
dewatering
manufacturers
sale
screen
suppliers
tamilnadu